CDAR has created a video on how to use the Virtual Open House & Tour of Homes function, the newest feature in the MLS. Click here for the accompanying document with this video.
For more on the newest feature in FLEX, please read below.
---
During this time of change and uncertainty, as well as with restrictions in response to COVID-19, customary interactions like open houses and private showings have become difficult, if not impossible. Due to these restrictions, CDAR inactivated the Open House feature in the MLS recently. However, with the Virtual Only option, you can hold an open house or private showing with your clients without them having to do so in-person.
BENEFITS OF VIRTUAL ONLY OPEN HOUSE & TOUR OF HOMES
Agents who want to show a home virtually instead of in-person will benefit from this feature. Use it to host an open house for prospective buyers or to schedule a virtual tour of homes for a group of agents in your market. You can use any online communication service or event tool, such as Facebook, Zoom, or Microsoft Teams, to schedule a live online walkthrough of the home. Homebuyers or agents can join your virtual open house/tour of homes and view video via the camera on your phone, or via a shared presentation. Anyone who joins will be able to ask you questions in real time.
AVAILABLE OPTIONS AT YOUR FINGERTIPS
You have multiple options for adding digital media (other than photos) to your listings. With the introduction of virtual open houses/tours, we wanted to give you a refresher on how to use each option in FLEX:
• Open House/Tour of Homes:
A scheduled open house/tour of homes event (virtual).
* Available in the Scheduled Marketing Activities section of the Change Listing Page.
• Virtual Tour:
A slide show or other interactive media that is pre-recorded or created and not scheduled.
* Available in the Media section of the Change Listing Page.
• Video:
A walkthrough or presentation that is pre-recorded or created and not scheduled.
* Available in the Media section of the Change Listing Page.
WHAT EXACTLY HAS CHANGED, YOU ASK?
To accommodate virtual open houses and tours of homes, new options are available on the New Open House and New Tour of Homes pages. You'll be able to select Virtual or In Person, depending on the settings of your MLS. If you select Virtual, you can add a link to an online event, along with a description for the link. If you are entering virtual open houses in the FLEX MLS system, you will need to paste in the URL for a scheduled online event.
The following live web conferencing services are allowed:
After entering in the date of the event, you just need to select the start time and end time by clicking on the drop-down arrows, typing in your comments, and then clicking Next when finished. Please note that URLs to pre-recorded videos and virtual tours cannot be entered.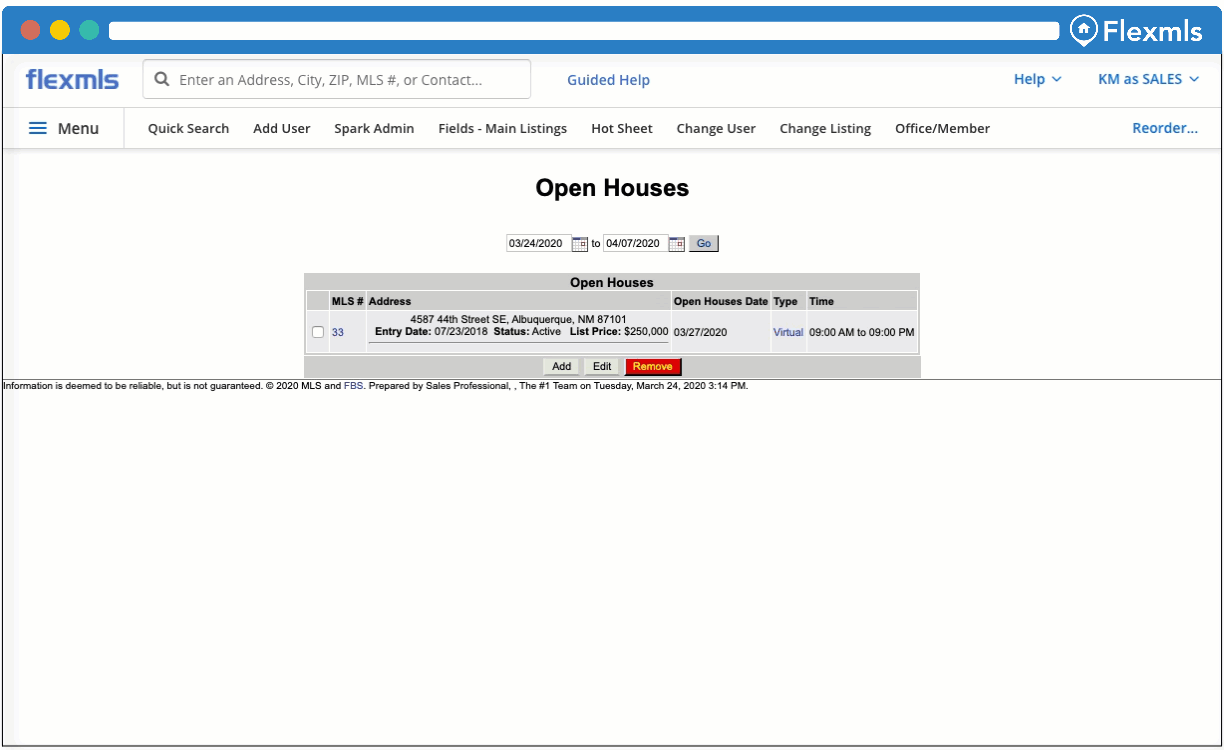 Upcoming virtual open houses and virtual tours can be viewed in the same places where you are used to seeing open houses and tours of homes.
When you're viewing listings on the search results page, click the Detail tab, and then click the Open House or Tour of Homes link. For virtual open houses and tours of homes, a clickable link will be displayed in the new Link field.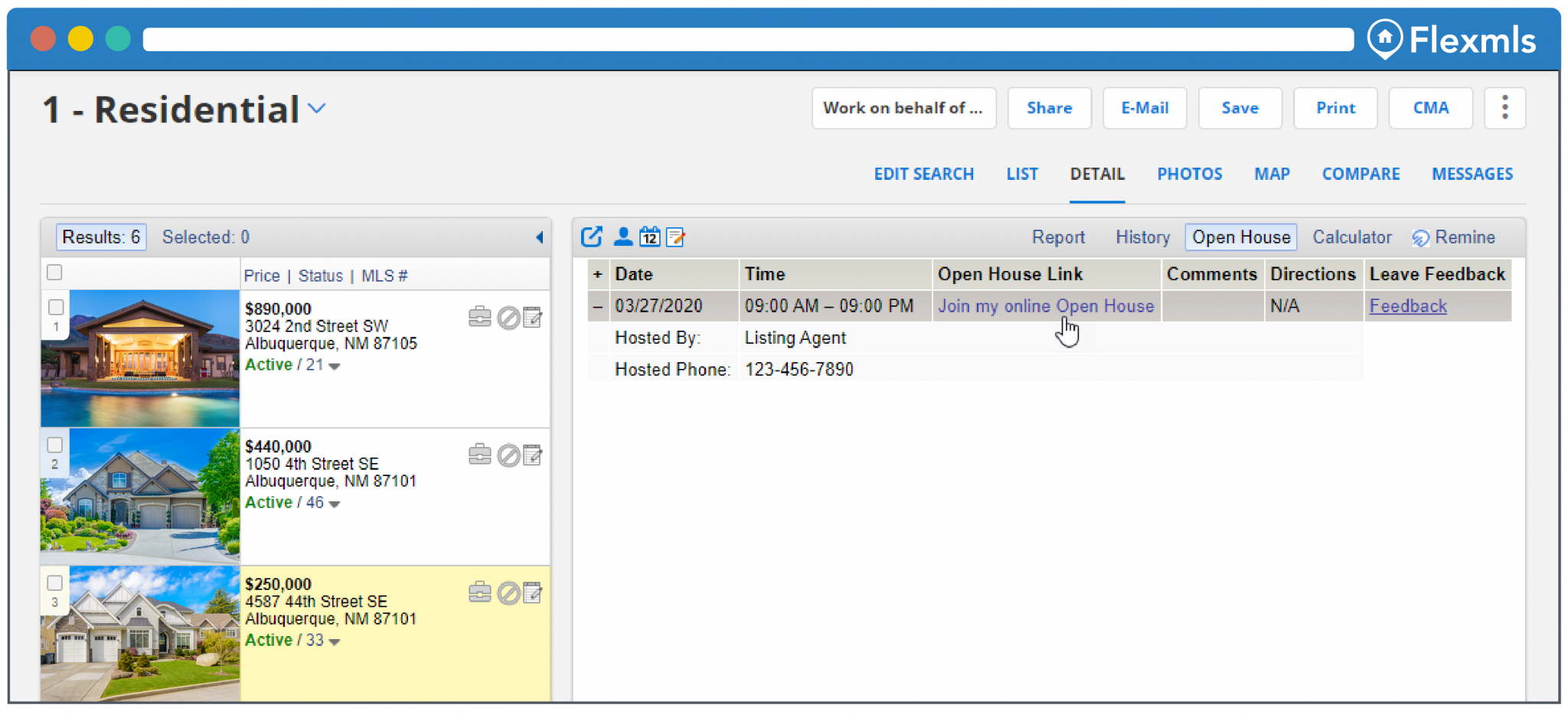 To search for upcoming tours or open houses, under Daily Functions on the menu, click Tour/Open Houses and enter search parameters. The link to a virtual event will be available in the event details.
Links to virtual open houses and tours of homes will also be available to third parties via RETS feeds.
WHAT ELSE IS COMING SOON?
We're currently working to bring virtual open houses and tours of homes to all of our FLEX MLS Mobile Apps and to the FLEX MLS portal. Soon, when you view a listing on FLEX MLS Pro, virtual open house/tour of homes information will be included in the listing details. Your homebuyers will also be able to view virtual open house information for listings on the FLEX MLS Portal. We'll let you know as soon as it's launched on these platforms.
WHY THESE CHANGES ARE HAPPENING
We know that the current pandemic situation is causing uncertainty in your lives and in your business. And we're committed to helping you adapt to the rapid changes while also keeping yourself, your family, and your community healthy and safe. In an effort to help you continue to make the market work, we accelerated our typical feature release process to make this feature available as soon as possible.
For more information, or if you have any questions, please make sure to reach out to the CDAR Corporate Office at 760-346-5637. Thank you, and continue to stay safe out there!